Ah, this is interesting. My S100 system needs software loaded, which is difficult when there is not a bootable volume available!
Thanks for the info.
Leonard KS4RN
From: n8vem...@googlegroups.com [mailto:n8vem...@googlegroups.com] On Behalf Of Tom Lafleur
Sent: Monday, November 19, 2012 5:28 PM
To: John Monahan; n8...@googlegroups.com; n8vem...@googlegroups.com
Subject: [N8VEM-S100:1151] CF and SD card images

There is a well supported, free CF/SD card Image program for the PC..
It maybe of great use to us who have CP/M system with CF and SD cards to make copies, share and save images.

I have tested it under Win XP, Win 7, 32 and 64 bit. and Mac OS running VM Fusion

It is use by the Raspberry Pi (An ARM GNU/Linux box for $25) for sharing boot images..
Is compatible with other "DD" image programs on the MAC and Linux system.

http://sourceforge.net/projects/win32diskimager/

I have use it to copy John Monahan, CF card for his S100 IDE board and Zeta CF and SD cards,

To use I start the program...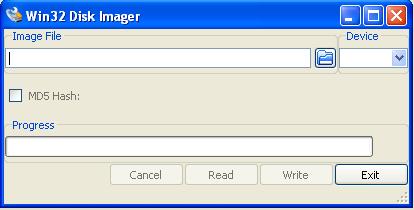 Insert a CF or SD card into your card reader... (after the program is started)
If Windows want to take some action on the card, say cancel to it message.

To Read a card, Select an image file name: ie: mycard, set the path with the small box with a folder on it...
In the device box, select the device letter for the CF/SD card... Be sure you know what drive your writing too!... Check the drive letter twice!!

Click READ to read the card...
When finish, select the MD5 button to generate an MD5 Hash of the card...
I keep only the last 6 digits of the hash and write this on the master CF/SD card image when I make one.
I also add it to the file name: mycard_md5hash so that I remember it. The MD5 is generated from the FILE image,
NOT from the card!

I Always read a new card twice, to a 2nd file name, ie: mycard1, to check that the MD5 hash is the same!

To Write a card, select the file-image to write into the Image File Box, select the device letter
Then write..
When its finish, I always read it back to a NEW file name, ie: mycard2 to check that the MD5 hash is correct.

good luck, lets see some images saved on the web site for all of us to use!!

also, let us know what make an model of CF - SD card you have tested with!

John's IDE board supports this 4GB Kingston CF card with the flowers on it:

http://www.amazon.com/Kingston-CompactFlash-Memory-CF-4GB/dp/B000T9251O/ref=sr_1_1?ie=UTF8&qid=1353363972&sr=8-1&keywords=kingston+4gb+cf

~~ _/) ~~~~ _/) ~~~~ _/) ~~~~ _/) ~~

Tom Lafleur
(858) 759-9692