Vector Graphic was one of the original S-100 companies formed soon after Altair and IMSAI. The initial computer "big green box" was unusual in that it did not have a front panel set of switches but nevertheless was extremely well made and well respected.

The company had a slightly unusual beginning in that it was started in 1976 by two housewives in Westlake Village, California. USA , Lore Harp and Carole Ely. Apparently they were impressed by an S-100 board 8K RAM Bob Harp, Lore's husband was putting together in his garage. He asked them if they would like to try selling it to the then germinating micro-computer community. Lore and Carol knew each other through bringing up their small children and welcomed the idea of "getting out of the house". The board took off. The wives decided to setup their own microcomputer company initially in a spare bedroom of the Harp house with an investment of $6000 and so Vector Graphic was born.

They were at the right place at the right time. Bob turned out to be a good engineer in designing boards. He left his job with Hughes Research Labs in Malibu in 1977 to become Chairman and was made an equal shareholder with Lore and Carole. The company grew from a sales turnover of $400K in 1977 to over $6,000,000 in 1979. It had well over 100 people in its heyday with about one third of them in R&D. Very early on they tended to focus their systems towards the word processing direction. They also early on dropped board kits and offered complete systems of a computer box, CRT terminal and printer all tightly linked together with software. This was in the days of the "daisy wheel printer". Good quality print but noisy!.

In 1981 the company went public ($13 dollar per share). Carol left the company (marrying the companies marketer) and retired. Bob and Lore divorced soon after the IPO and Bob left to found Corona Data Systems, one of the very first clone IBM PC companies. In 1982 Lore Harp remarried and became chairman and turned the CEO position over to guy named Fred Snow. Business started to level off and in 1983 Lore Harp came back to becoming the CEO again. As is often the case with investors and startup companies, 1984 saw a board room battle about the future direction of Vector Graphic after which Lore Harp left the company. Over the next 3 years the company sadly deteriorated and eventually disappeared.

The Vector 1 initially came out with an 8080 CPU (1977) as Vectors first complete S-100 system. In 1978 this was upgraded to a Z80 and the speed over time increased from 1MHz to 4MHz. IO was the old Bitstreamer I, 1K RAM boards initially and a Flashwriter 1 VDB. The Vector1+ was a slight enhancement, moving some power supply components back which allowed room for one internal 5.25" diskette drive Both systems became infamous for their two front switches which had to be specially dyed green but turned out to be very unreliable. However the ROM based monitor was a real hit instead of a "complicated" front panel to the "normal" person in an office.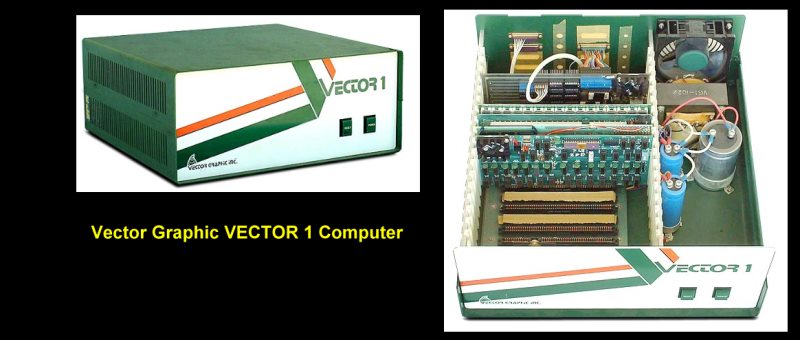 For more information about Vector Graphics the reader should visit the
Wikipedia site.
Vector Graphic S-100 Boards
Dual FD-HD Controller
FlashWriter-II
Bitstreamer-II
48K-RAM
64K-RAM
8080-Board
8K-RAM
EPROM
FDC
Micropolis-FDC
Z80-Board
SBC
This page was last modified on 06/09/2022