Cromemco 16K KPR ROM Board


This was the next extension of the popular 8K Bytesaver.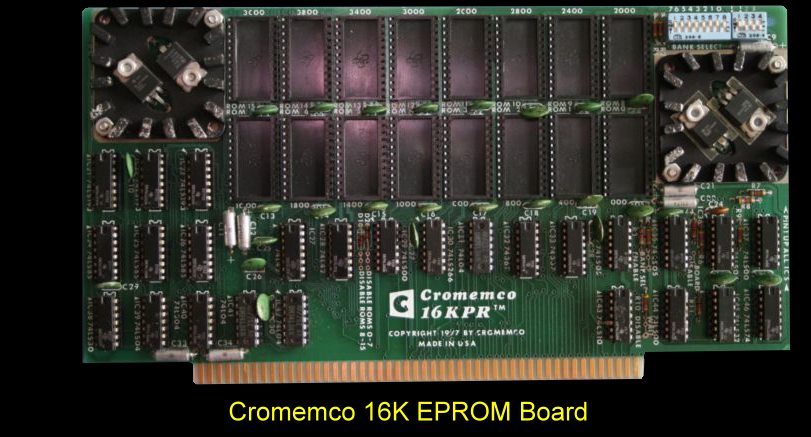 The board provided space for 16 2708 type 1024-byte erasable PROMs. The card could also be used with 2708 compatible ROM memory ICs, such as the 2308. Like other Cromemco memory cards, the 16KPR will operated at 2 or 4 MHz (user-selectable), without wait states, in the usual sequential addressing class of operation. The 16KPR included Cromemco Address Anticipation circuitry, which allows virtually full speed operation at 4 MHz. The 16 KPR also had Memory Bank Select, a feature that allows expansion of memory space beyond 64K bytes. With bank select, memory space may be organized into 8 banks of 64K bytes each. Direct Memory Access Override was another feature of the 16KPR that allows a DMA transfer to take place between any addresses in memory without regard to residence in a particular memory bank. The 16KPR provided ideal EPROM support for the Cromemco Z-80 CPU card.

The manual for this card can be obtained here
.
Other Cromemco S-100 Boards
ZPU
SBC
4KRAM
16K RAM
64KZ RAM
64KZ-II RAM
256KRAM
8KBytesaver
Bytesaver-II
16KPROM
32K Bytesaver
4FDC
16FDC
64FDC
WDI
WDI-II
STDC
DPU
4PIO
8PIO
TU-ART
D+7A I/O
Dazzler
PRI
GPIB Board
XMU
XXU
Other Boards
This page was last modified on 10/25/2013